Bayfield Apple Festival Poster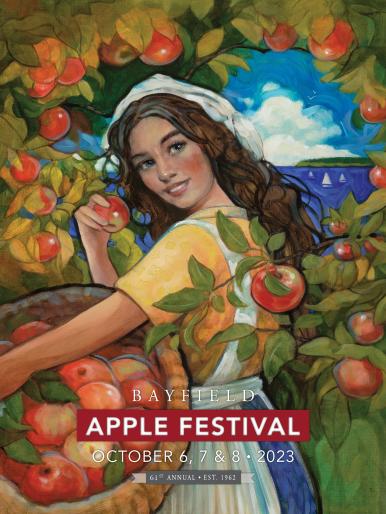 Every year a Bayfield area artist creates the Apple Festival Poster.  
The 61st annual Apple Festival poster was created by Tonja Sell of (Do)ARTWORX in Oulu, Wisconsin.  
Sell's design received 104 votes and was the runner-up for the 2022 Apple Festival poster contest during Bayfield Festival of Arts.
The poster is available for purchase at the Bayfield Chamber and Visitor Bureau during Apple Festival. You can also call and request a poster at 715-779-3335. 
Price: $25 (Not Framed) $50 Framed +shipping if you would like it mailed to you. 
Apple Festival Poster Contest 
The Bayfield Chamber and Visitor Bureau is taking submissions for the 2024 Apple Festival Poster! Your poster will be displayed at the Bayfield Festival of Arts on September 9 and 10, 2023 at Memorial Park.
The community will vote in person on both days of the festival. The poster with the most votes will be selected for the 62nd Annual Apple Festival! 
There is no cost to participate! 
Please submit your poster by emailing carol@Bayfield.org by Friday, September 1, 2023. 
Original artwork should be in full color 18" by 24" presented as original full-size artwork in the correct dimensions or aspect ratio, or as a digital file suitable for printing at the stated size (minimum pixel dimensions of (5400x7200).