Bayfield Bakeries and Their Favorite Desserts
Get your keys and wallet ready because after reading about all of these amazing desserts you're going to want to head over to Ashland Baking Company, Cafe Coco and/or Landmark Restaurant at Old Rittenhouse Inn!
Tiered wedding cakes, dessert tables, tortes, cupcakes and are just a few of the fantastic options for your wedding dessert! We spoke with a few local bakeries to hear about their favorite desserts to serve, their specialities and if they have any recommendations for those getting married. Enjoy!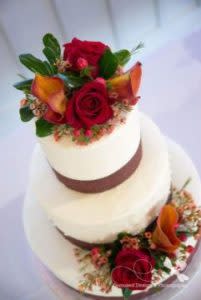 Cake made by Ashland Baking Company
Photographed by Bemused Design & Photography
Ashland Baking Company
Located in a neighboring Chequamegon Bay city, Ashland Baking Company is an artisanal bakery that offers an array of high quality, handmade products. Wedding cake designer, Kealy White, says traditional stacked wedding cakes are her passion. She really enjoys collaborating with couples to create the perfect cake for their special day. She also loves making French macarons!
Chocolate cake is Kealy's favorite, which she thinks pairs well with so many great flavors: raspberry, vanilla, coffee and fresh local berries! Wedding guests tend to get very excited once a cake is cut and they discover that the inside is decadent chocolate. She also loves their coconut cake with passion-fruit filling!
What is Kealy's recommendation for couples planning a Bayfield wedding? She says planning a wedding can be stressful but she always tells her couples that choosing your wedding desserts should be part of the planning that is lighthearted and fun. Wedding trends are really allowing for a lot of creativity and expressions when it comes to desserts. The sky is the limit!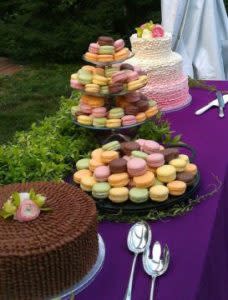 Ashland Baking Company's Cake & French Macarons
Cafe Coco- Artisan Bakery and Good Eats
Located in the neighboring town of Washburn, Cafe Coco serves breakfast and lunch, and also features a delicious deli and bakery. They pride themselves on using local ingredients and offering a variety of gluten-free, vegan and vegetarian options. In addition to making your wedding cake, they also offer catering services.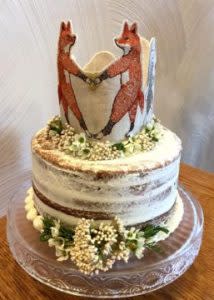 Cake made by Cafe Coco
The owner of Cafe Coco, Noreen, says her absolute favorite dessert presentation is an assortment of pastries- baklava, cheesecake danish, bobka, hazelnut cream tarts all delivered to tables for guests to make their selections. Her favorite cake is an almond cake with mascarpone and fresh raspberry filling and dulce cream frosting.
Cafe Coco's specialty ranges from challenging croquembouche and kransekake to a simple valrhona chocolate ganache cake. Their top recommendation for those getting married is to book your wedding desserts as early as possible!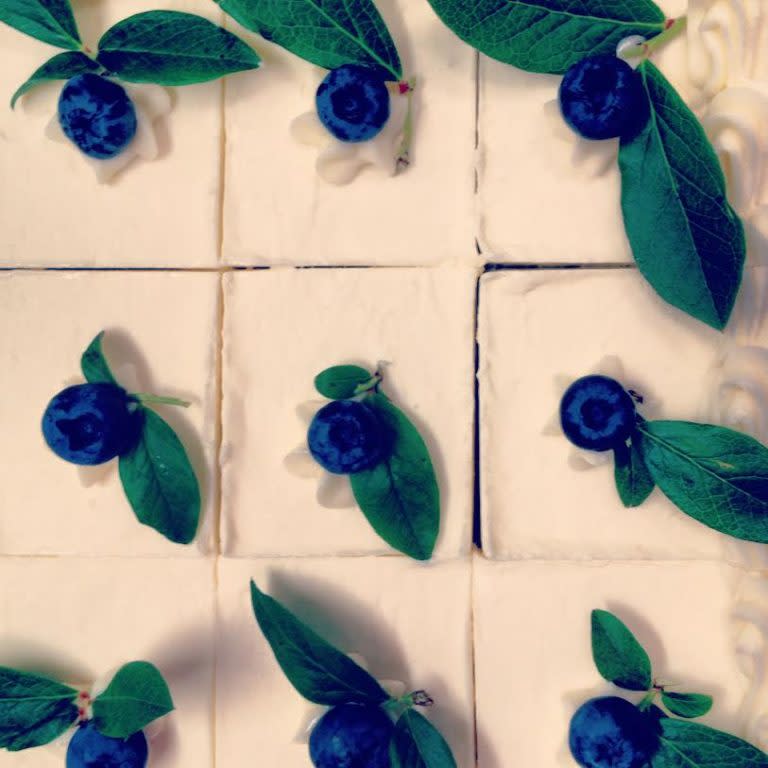 Dessert made by Cafe Coco
Landmark Restaurant at Old Rittenhouse Inn 
Located inside the Old Rittenhouse Inn, Landmark Restaurant offers upscale American and French cuisine all year long in Bayfield, Wisconsin. Landmark Restaurant offers many dining and bakery options for small weddings and intimate celebrations.
We spoke with the owners about their favorite dessert to provide for weddings, which they said are Old Rittenhouse Inn Tortes! Their tortes are multi-layered (4-7 layers) in house-baked cakes that are sliced thin and brushed with liqueur/preserves/filling and alternately frosted with buttercream icing. The exterior is simple, yet elegant, and sometimes garnished with flowers or berries/nuts/icing that complements the chosen flavor.
The orange blossom torte and white chocolate raspberry torte are among staff and guest favorites. The orange blossom offers a vanilla cake sliced into thin layers that are brushed with Cointreau and alternately layered with orange butter cream icing. White chocolate raspberry offers white chocolate cake sliced into thin layers that are brushed with Chambord and alternately layered with raspberry preserves, which chocolate butter cream and fresh raspberries.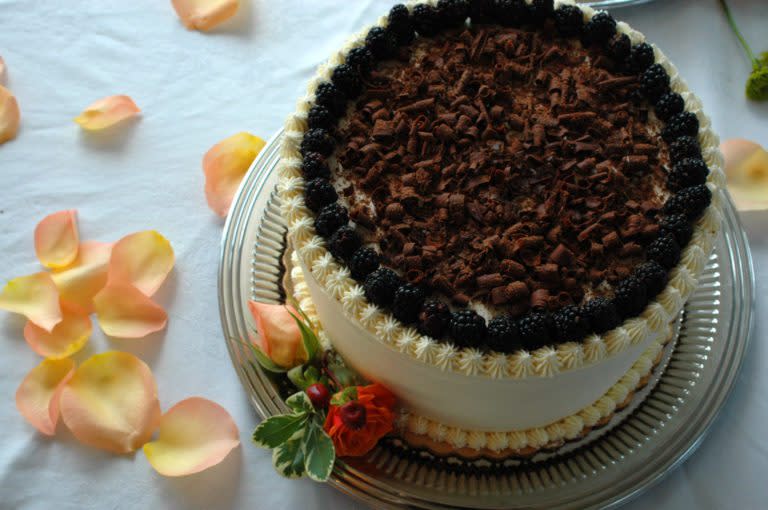 Old Rittenhouse Inn's Landmark Restaurant Blackberry Torte
Take a look at our resources and inspiration page to help plan your Bayfield Wedding!