Snowflakes twinkle in the street lights lined with garland decorating historic Rittenhouse Avenue. The smell of sweet fudge, salty popcorn, and hot cider greets red noses chilled from the crisp December air off of Lake Superior. The Holiday tree stands bright, serving as a beacon for shoppers eager to sample sweet treats, hot drinks and find the perfect gift this holiday season. This and much more await you for your uniquely Bayfield shopping experience on a special night when shops are open late, on Friday, December 1.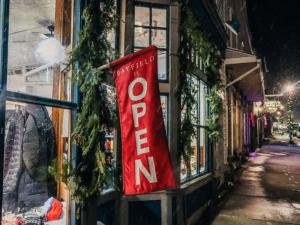 Grab a Shop Hop Passport and collect stamps during your shopping experience and you too could be gifted something special. Many stores have special deals and offers on this Shop Late Until 8 night. 
Collect eight stamps to be entered into a drawing for $50 in chamber gift certificates (good at any chamber member store) or shop 16 or more stores for a chance to win a basket of gifts from Bayfield. 
Visitors can collect stamps anytime between November 18 and December 23. Turn in your passport to the Bayfield Chamber to be entered into the drawings.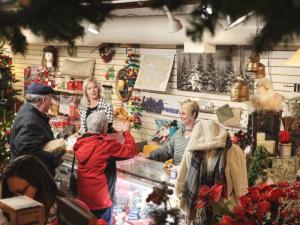 The Bayfield shopping experience turns into a social gathering. Head to Big Top Chautauqua's Backstage and listen to live music from the house band. Rest your feet and your shopping bags by having a drink and a bite to eat in a cozy lounge or pub.  
Explore holiday markets with one-of-a-kind art pieces inspired by the beauty of Lake Superior and the Apostle Islands December, 1 and 3. 
Warm cabins, welcoming bed and breakfasts, and motels with superior views are ready to be your home base for your holiday shopping experience this season. Stay right in downtown Bayfield for easy access to shopping and dining or find a secluded cabin just minutes from town where you can cozy up by the fire with a book and beverage.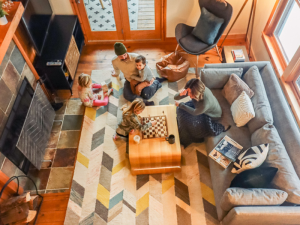 Download or pick up your passport and explore everything the Bayfield area has to offer this holiday season. 
This 4 part series is a chance to learn and create your gifts for the holidays. Each class will focus on the a type of herbal creation, bath bombs, salt soaks, lip balm, salt glows, sugar scrubs, and Herbal tea blending. You will learn about properties of many different…
Recurring weekly on Sunday, Saturday
Join us Saturday and Sunday December 9th, 10th and 16th and 17th from 10am - 4pm in Downtown Cornucopia for our first Ehlers Holiday Market.
StageNorth Groundlings Annual Holiday Showcase, a merry mosaic of skits, song and readings, written and directed by Liz Woodworth. Special appearance by Lost in the Woods Comedy Improv Group. StageNorth Theatre is a 142 Seat State of the Art Theatre overlooking Chequamegon Bay in…
Bring the kids to meet Santa Claus as he makes a memorable appearance in Bayfield on the Madeline Island Ferry. Upon their arrival, children will get an opportunity to meet Santa and have a picture taken (bring your own camera) in the Lakeside Pavilion. Each child will also…
Pick up your passport in Bayfield stores and galleries and shop away. Collect signatures from businesses with a $5 purchase and be entered into a drawing to win prizes! (1) WINNERS • Win a $100 shopping spree in Chamber gift certificates and a basket full of local Bayfield…
Welcome to Something Vintage Jewelry's exclusive holiday giveaway! As the festive season approaches, we invite you to immerse yourself in our new Holiday collection of vintage jewelry and celebrate the season with us! At Something Vintage Jewelry, we believe that every piece of…
Join Landmark Conservancy staff and the Friends of Copper Falls State Park for a winter exploration hike. We'll start our hike from the State Park's Doughboy Trailhead and then use the newly completed connector trail to access Landmark's Tyler Forks Community Forest. We'll…
StageNorth Groundlings Annual Holiday Showcase, a merry mosaic of skits, song and readings, written and directed by Liz Woodworth. Special appearance by Lost in the Woods Comedy Improv Group. StageNorth Theatre is a 142 Seat State of the Art Theatre overlooking Chequamegon Bay in…
Join us for a classic holiday bash Thursday night, December 14 - 5-8 p.m.! Feast on your favorite holiday bites, listen to familiar tunes, and score artsy treasures with late-night shopping. Your vintage sweaters and quirky holiday accessories are encouraged! We may be raffling…
StageNorth Groundlings Annual Holiday Showcase, a merry mosaic of skits, song and readings, written and directed by Liz Woodworth. Special appearance by Lost in the Woods Comedy Improv Group. StageNorth Theatre is a 142 Seat State of the Art Theatre overlooking Chequamegon Bay in…