From painters, jewelers, potters, and sculptors to woodworkers and performers, Bayfield's high-quality art scene is worth celebrating."Art Escape" is a nine-day celebration of all things art across Bayfield County and Madeline Island held September 9 - 17, 2023. 
Experience the arts through demonstrations and open houses, and create your own masterpiece during a workshop. The Bayfield peninsula and Madeline Island are full of experienced artists who are excited to share their knowledge with you! Be sure to check out these artists! 
Eckels Pottery and Fine Craft Gallery: The Oldest Pottery in Wisconsin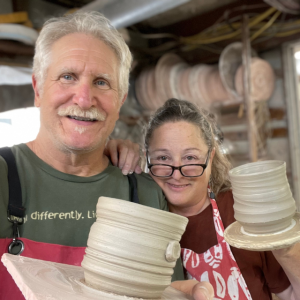 After 45 years of making pots in Bayfield, Pete Skoro and Dede Eckels asked ourselves, "what does our artistic future look like?"
Dede's father, Robert Eckels (Bob), started the pottery studio in 1960 and was instrumental in creating the art culture in Bayfield and the surrounding area. Many potters on the peninsula were apprentices, drawn to Bayfield by her father's desire to teach and train people who followed their hearts to ceramics. After college, Dede came home to work with her dad until he passed in 2004, then decided to carry on their family traditions. I have operated the pottery/gallery ever since.
Dede's work in ceramics has included private commissions, traveling to shows, published work and local and national invitational exhibits like the American Craft Council and the Smithsonian Craft Show. Eckels Pottery has supported the local schools with educational workshops and classes for the public and has hosted "Empty Bowls" charities and other events for many years.
Eckels Pottery will offer those interested in ceramics and art many opportunities to fulfill your art interests during Art Escape week. Click here to check out our events! 
Stone's Throw Gallery and Wobbly Woods Studio: Andy Falconer
Once upon a time back in 1979, Andy Falconer came to the Lake Superior Area. Not having an idea of what to do with her Bachelor of Arts degree from Webster University, she decided to mooch off her sister Leslie and accepted a clerking job at Karlyn Gallery (now called Ghost Ship Gallery and Art Lounge) in Washburn, Wisconsin. Karlyn soon had her working the front desk, mixing clay and glazes, throwing, taking orders, and packing and shipping. Before Andy knew it, she was hooked.  A new love affair was born, not just with clay, but with the business of running a gallery and making it seem fun. In 1995, Andy opened her own gallery called Stone's Throw in Bayfield. On occasion, when the business of running the shop seems less than fun, she throws pots and loves it! 
Andy invites you into her studio, Wobbly Woods Farm, September 9-17, to share her passion for pot throwing. The studio is tucked in the orchard bluffs of Bayfield, a few minute's drive from Stone's Throw.  In addition to making pottery, she creates "window bling" which are colorful hangings using driftwood, beach glass and beach stones from Lake Superior. 
Turtle Tracks Studio: Michelle Auger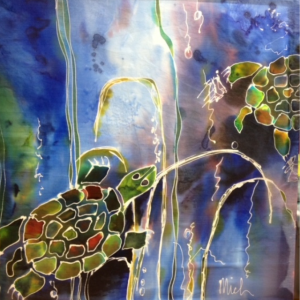 Michele Auger has lived, worked, played, and created art on Madeline Island year-round for 43 years. The island has offered endless inspiration for her work. Painted paper collage weaves together my passion for texture, color, patterns, and whimsy.
Auger is a professional weaver, specializing in custom work. She weaves a variety of pieces ranging from wall hangings, shawls, scarves, pillows, runners, all sizes and types of rugs, both rag and wool. Over the years, Auger longed for another medium so she started to paint. Watercolor was her first introduction, but she soon needed more. After years of instruction and not getting the results she wanted, Auger took a class at the Madeline Island School of the Arts on painted paper collage, knowing she found her medium. Now, Auger spends her creative time doing both weaving and collaging. They each give her a different kind of joy. Come watch while she paints on silk at the La Pointe Center for the Arts during Art Escape. 
Ghost Ship Gallery: An Alternative Art Haunt
All aboard the Ghost Ship — Washburn's favorite funky haunt where the art is hot, the beer is cold, and the creative vibe is baked into the building's 60-year history as a home for the artists and outcasts in Wisconsin's Northwoods. Stop in to talk to one of the resident artists in our nine working studios or explore our rotating collection of paintings, prints, pottery, and more. With over 50 talented artists represented, we're sure you'll find the perfect piece that'll have you asking, "will that fit in the car?"
Just wanting to kick back? We're now home to Lake Superior's newest, coolest tiny bar — serving cans and bottles of your favorite regional brews, seltzers, and N/A options. Take a seat in the art lounge, play a record, draw a doodle, and soak it all in.
Join us for our Open Studio Happy Hour on September 14. 
Artists on the Byway and Artists Squared Galleries: Art Talks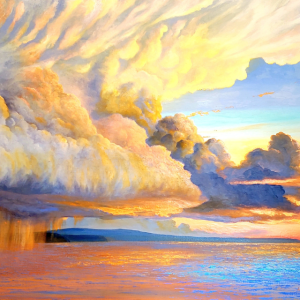 Artists Squared Gallery and Artists on the Byway Gallery in Washburn will host Art Talks during the Art Escape week, one in each gallery during a scheduled Open House.  These two galleries are owned and directed by Susan Lince and John Hopkins. Each of these "his and hers" galleries has a distinctive style, showing and selling local and regional art that reflects the interest and talent of its owner/artist. Susan is an abstract mixed-media painter, and John paints skyscapes and landscapes in oils. Each of their Art Talks will engage visitors in understanding their art process and the story behind the paintings.
Herbster Studio Art Tour: An Encore for Art Escape
The Herbster Studio Art Tour (HSAT) has been a Herbster community event since 2009.  The studio tour has always been on the 3rd weekend in August.  For the second time HSAT will include a follow-up educational component during the week of September 9 to September 17, which will involve instruction from each artist. This September educational component is called Art Escape, organized by the Bayfield Chamber and Visitor Bureau.  
These 7 HSAT artists feel strongly about the fine arts and about encouraging quality and creativity in the arts.  For example, Susan McDonald will teach a class on Botanical Watercolor.  Sara Mustonen will provide a demo on the ancient Native American art of  Ply-split Braiding.  Scott Sample will offer a demonstration on the fundamentals of drawing.  Diana O'Brien will offer a class on her techniques in wet-on-wet watercolor painting.  Dale Paulson will conduct a demo on his woodturning techniques. Sandra Starck will conduct a demo on all the steps involved in creating a woodcut relief print.  Jane Herrick will lead a discussion about artistic abstraction across various mediums in the visual arts.
(Do)ARTwrox Studio: Tonja Sell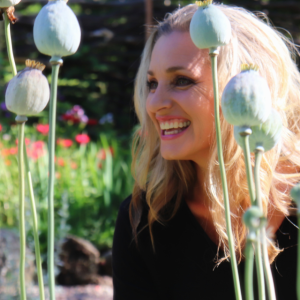 Tonja Vojacek Sell is a Wisconsin native and daughter of Anton (Jim) and Sue Vojacek, stained and blown-glass artisans who operate the Oulu Glass Gallery. She attended the Milwaukee School of Art, studying fine arts, drawing, and illustration.
Sell's pieces are often described as narrative. Her paintings invite the viewer to enter the scene to share a fleeting moment in time. It is predominantly subject-based, but use of color, including texture and paint application, have equal importance to the subjects themselves.  She tries to give the viewer enough information to connect with the scene but encourages them to finish the story themselves. 
Tonja teaches classes and hosts artists retreats across the U.S.A., online and in her Studio in Oulu, Wisconsin. Stop in during the Art Escape to preview the new art gallery officially opening in 2024, tour the ceramic and, drawing & painting studios, meet the artist, and tour the lovely gardens.
Something Vintage Jewelry: Sharing Beauty, History and Craftsmanship
Something Vintage Jewelry began as a small personal collection of vintage jewelry inherited by its founder. A deep curiosity and fascination with the history of the pieces and the incredible craftsmanship of the designers led her to begin curating a larger collection of one-of-a-kind vintage pieces.
With locations in Beverly Hills, California, and Bayfield, Wisconsin and a thriving online store, Something Vintage Jewelry is passionate about sharing the rare beauty and elegance of vintage jewelry with people around the world.  
Come check out our gallery in the heart of Bayfield the week of Art Escape for prizes and cash drawings at Art Escape Mixers throughout the week. 
Come see why so many are inspired by the natural beauty of Northern Wisconsin and create your own Art Escape during this nine-day art extravaganza.
Click here to check out more galleries and artist happenings. 
From painters, jewelers, potters, and sculptors to woodworkers and performers, Bayfield's high-quality art scene is worth celebrating. Join us for the second-ever "Art Escape," a nine-day celebration of all things art across Bayfield County and Madeline Island.